Gypsy Maker 4
Places, Spaces, Traces a specially commissioned body of work for
The Romani Cultural & Arts Company for their groundbreaking Gypsy Maker project opened last month in Newport. The Romani Cultural and Arts Company is an initiative that supports the development of innovative works by established and emerging Gypsy, Roma and Traveller artists.
The exhibition also features the work of Dan Turner (his work 'Tan' is featured below) and is supported by Arts Council Wales. The private view was well attended in spite of flooding stopping trains and closing roads.
The exhibition closes at The Riverfront, Kingsway, Newport 14th March
before moving on to the Rug Gallery in Cardiff. I will be at the gallery on Monday 23rd March from 1.00-3.00 if you would like to come and say hello and look at the current project I am working on. (Images courtesy of Felix Page and RCAC)
Exhibition dates:
Rug, Unit 16, Ground Floor, Capitol Centre, Queen Street, Cardiff, 21st March-18th April.
Workshop Update
Many of the workshops I have planned this year are filling up fast or have waiting lists only.
I am delighted to be back at West Dean College in May with Personal Journals and June. with Unfolding Landscapes.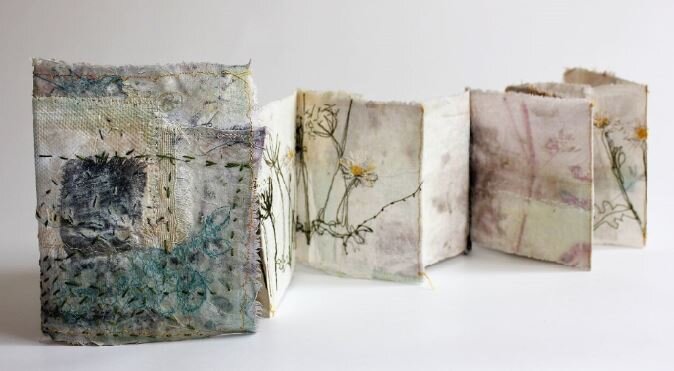 I travel further North to the lovely
Lund Studios in North Yorkshire,
30 June -3 July. Stitch Sketch Book, Folding bookforms.
All other workshops and those yet to be posted are under workshops section of this blog.
Finally, since the new year I have attempted to cycle round Mote Park most days on my trusty Marin when at home. This little adventures are great to pull me away into the fresh air.
I keep a tiny sketchbook in my pocket and sketch when I can