Loving what I do...exhibition plans
January has been a time for looking forward and making plans as well as a welcome time to catch up with some creative and me time (as well as filling out the dreaded tax return.
I am working on the the final preparations for my forthcoming show Painting with Cloth at the
Rochester Art Gallery.
The collaborative installation,
Tea Flora Tales will also be shown at Rochester Cathedral.
The private view is on Thursday 28 February from 6.30-8.30, All are welcome, no need to book (continues until 19th May)
Medway Gap (detail) Cas Holmes photo by Mike Hemmings
I am delighted my Heart, For King and Country which was displayed as part the 100 Hearts exhibition organised by the Embroiderers Guild UK will now reside in the collection at Norwich Cathedral. On one side it featured family members, with the surname Holmes and King and on the other, Edith Cavell who is buried in the precincts of the Cathedral. As we near St Valentine's Day, it is appropriate that my heart resides in a place I love and would walk through regularly on my way to and from school.
Talking of walking I spent some time with family at the beginning of January and went for winter walks in the broads and woods of Norfolk
Made a few sketches and studies. Trying to capture a sense of what I felt and saw further on in the walk for the few minutes I could hold drawing tools in the cold.
This article in Inside Kent Magazine (January 2019) reflects upon how I take inspiration from the 'world around me' and projects in 2019.
Bonnard talks about this needing to catch a feeling of place. His colour reflecting the warmth of the South of France. The exhibition The Colour of Memory at the Tate Modern is well worth a visit.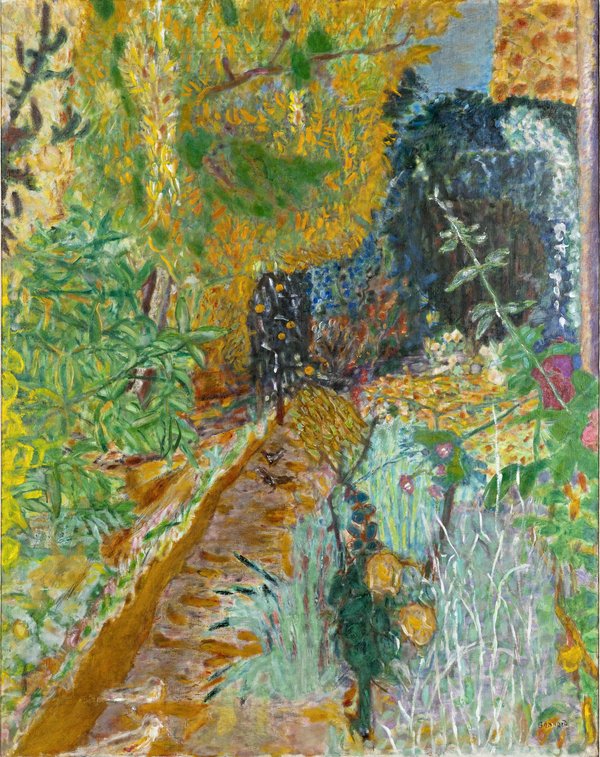 ​Pierre Bonnard
Le Jardin
1936 Musée d'Art moderne de la Ville de Paris (Paris, France)
'Painting with Cloth' is supported by Medway Council, Rochester Cathedral and John Harper Wealth Management